Dining Out With Children
Here are some helpful tips at eating time that we've learnt with our children from Parkside Early Learning Centre.
At Parkside ELC the children enjoy all meals together – this builds a real family feel and builds relationships. Our educators at our centre use this time to discuss healthy eating and encourage children to try new foods. It is also a valuable learning time to practice table manners and using cutlery. All these are life skills – learning these can start from a very you age. During free play time the children at Parkside ELC love pretending to cook in the home corner kitchen or play 'restaurants'.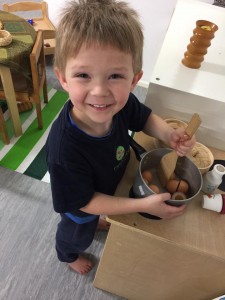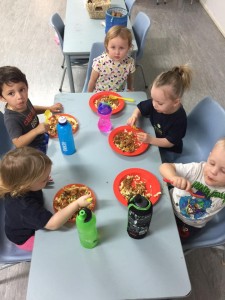 Dining out can be a great way for families to enjoy some quality time together, but if things go wrong, it can also be a nightmare. Here are a few tips to ensure that your family eating-out experiences go more smoothly:
Lay the groundwork:
Children can't be expected to behave well in restaurants if they are used to being allowed to run riot at mealtimes at home or haven't been taught the basics, such as how to use the proper utensils. It is safest to give children unbreakable plastic dishes and cutlery to practice but every now and then, and once they are a bit older, move on to proper china but maybe not your grandma's best! Proper china and cutlery feels a lot heavier and if children are not used to this they may have more accidents.
Prepare your children for proper table manners by eating as a family at home and by teaching, modelling and enforcing positive behaviour while eating. Practising table manners in a safe and relaxed way at home is much easier for you and your child than having a fight or embarrassing moment in a restaurant with lots of onlookers.
Pick your time:
Taking children to a nice restaurant when they are tired, over-hungry and fractious is often a recipe for disaster, so choose your time carefully. Maybe try a nice brunch somewhere (they can have some toast before hand at home) or go to a café for afternoon tea. In the Gympie region my favourite place is the Cooloola Berries Strawberry farm. Kids can run around free and are not restricted to staying in a room! Next time move on to bigger events like going out for dinner. Make the evening meal an early one and remind your children about what is expected before hand.
Pick your place:
If there are no other children in the restaurant that you are considering, it might be wise to steer clear. Children often pick up on an atmosphere that is not child-friendly, and the companionship of other children often encourages better rather than worse behaviour. In Gympie we have a good choice of kid-friendly restaurants like The Royal which has a kids play area!
Order carefully:
Ordering a selection of appetizers rather than main courses not only can mean a shorter wait for the food to arrive, but it also avoids the issue of children complaining that they don't like the food. Or choose a place that is all you can eat or buffet style. That way children don't have to wait – try one of Gympie's sushi trains or Pizza Hut's All You Can Eat!
The waiting game:
Sometimes it is unavoidable to have to wait – if other children are joining your restaurant get-together then take along some simple games they can enjoy while waiting for their food. How about card games like Pairs/Happy Family or UNO. You could also play games like I spy or make up games like having to find three things that are red. Hopefully this will make time pass quickly and encourage some fun conversations, too!
Finally:
Never use dining out as an opportunity to have your children try something new (unless they are really into trying new foods). Keep your experiments for mealtimes at home – most supermarkets offer a huge choice of multicultural foods. Try a sushi making kit, a curry jar or have a Mexican fiesta at home with some tacos! Then your children will be prepared for a fun dinner out!
Categories: